RSA 2020 is right around the corner and ReversingLabs, the leader in Explainable Threat Intelligence will be exhibiting at Booth #3311 in the South Expo.

Be sure to stop by for live, onsite conversations and demos to learn how ReversingLabs:
•

Shifts the security paradigm from black box to glass box verdicts you can explain
•
Breaks down, understands and classifies complex files and objects
•
Protects against high risk zones including emails, endpoints, containers and mobile
• Seamlessly integrates at scale with existing security and operational tools like sanboxes
• Accelerates alert triage in Splunk and Microsft Sentinel, and with CVE correlation and mapping
• Automates reverse engineering and confident remediation actions through Phantom
• Track APTs while correlating with high priority malware
• Share Explainable Threat Intelligence with TIP partners Anomali and Threatconnect
• Automate continuous threat hunting through advanced search and YARA rules
• And much more!

Take a quick ReversingLabs

Threat Intelligence Quiz

and
WIN a #ReversingQUIZ gift!
Pick up at the ReversingLabs RSA Conference Booth #3311!


Where You Can Find ReversingLabs at RSA 2020
We are kicking the week off by joining AGC's 16th annual tech event and some of the fastest growing private companies spanning all major sectors of security.



The Emerging Innovation Technology Social will be the talk of the town. Click here for more information!

Unwind after a busy day of sessions and networking at Tanium's Happy Hour event proudly co-sponsored by ReversingLabs.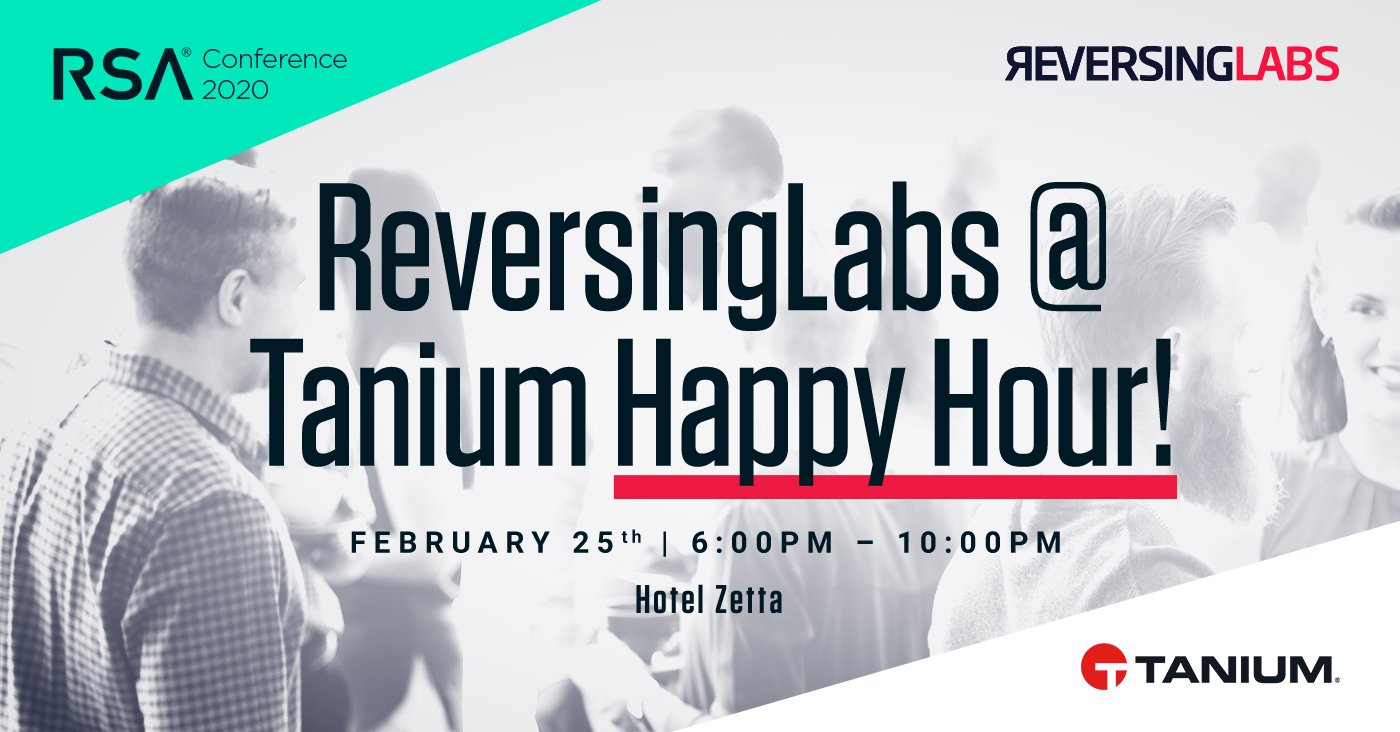 An exclusive "Get to Know" Open Cybersecurity Alliance (OCA) Luncheon

Stop by the ReversingLabs booth #3311 during the Wednesday evening reception for a cold one after a long day!

Pick your passport up from our partner, Anomali's, booth, visit all partners listed and be entered to win some cool prizes! Winners will be announced Thursday, 2/27 at 1PM PT from the Anomali booth.


Check out how to find ReversingLabs at #RSAC